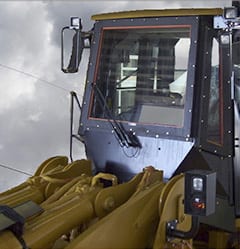 Heat Shield Window System with Blast Resistant Glass
Cincinnati Gasket & Industrial Glass serves your blast resistant glass needs with a heat shield window system developed to address on-going problematic volatile situations. This heat shield system can also be designed into new blast resistant glass applications.
Through the use of specific types of glass and framing, a blast resistant glass window system can help provide injury prevention, environmental protection (reduce heat transfer, sound reduction), improve existing sight lines, and provide a maintenance friendly replacement style.
Our heat shield window system is currently being used in many varied industries for common blast resistant glass applications such as:
Primary metals
Steel facilities crane cabs, pulpits, work stations
Aluminum facilities pot room cranes, skimmers, furnace forklifts
Foundries hot metal carriers, pouring stations
Slag handling/reclamation front loader cabs, crusher stations
Our blast resistant glass heat shield window system provides safety. The multi-layered, tempered, heat resistant glass withstands impacts and heat that destroy regular windows.
Once the glass has become damaged our patented quick change wedge system makes installing new glass quick and effortless.