The "H" Heat Shield for Heavy Machinery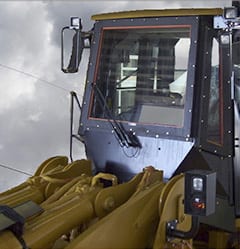 With Experience of over 50 years providing protection and safety for the steel mill industry, Cincinnati Gasket and Industrial Glass has successfully developed heat shield protective packages currently used in both front loaders and lift trucks. These custom-designed units have worked successfully in Caterpillar, Clark, Hyster, Gradall, and Kawasaki equipment.
Our Heat & Impact Protective Industrial Windows
Understanding the hazards facing operators digging and loading in the slag pits and various furnace areas of steel mills and foundries, this combination of heat-reflective glass and high-impact/penetration to form protective blast resistant windows for forklifts increases the safety factor on the front and side windows of these machines.
Easy Heat Shield Removal and Replacement
This system is the single most efficient industrial window in terms of maintenance, removal, and replacement. They are customized to fit your particular needs and designed with unproductive downtime in mind.
Custom Framed Heat Shield Technology for Most any Machine
We start with a metal frame to fit the window opening and then proceed with stainless steel inner frame specially glazed to fit your applications.
After the frame is complete it is shipped to your location for an easy and quick installation.
Please call us or Contact Us Online to review your safety needs on your current inventory or for future purchases of equipment.